It is an all too familiar pattern. Hardly fails to disappoint. A top dog nears the end of a contract deal.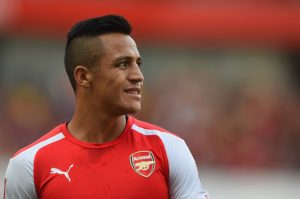 A rival club offers a way out. Arsenal offer theirs whichis always less than what outsiders bring to the bidding table.This is a recurring tale of "not again" for many Arsenal fans. Having repeatedly gone through the pain of watching valuable players take the exit door at the Emirates, the latest contract tussle between Sanchez and the club's hierarchy is a most unwelcomed niggle by Arsenal faithful.
Tuesday's slip-up at Goodison Park does not appear to be the only thing that can potentially disrupt Arsenal's relatively quiet and progressive campaign. Alexis Sanchez transfer scuffle appears to be a pang that has been promised to Arsenal fans throughout this festive period. Needless to say that this is absolutely one if they will not want to cause them headache
The 27-year-old club beacon was last week reported to have received a bid of £400, 000 per week from an unnamed Chinese Super League club and apparently it seems the Chilean's agent is using that offer to box Arsenal into a corner and squeeze out the best of deals they can for their client.
They are reported to be demanding a £250,000 per-week as against Arsenal's £180,000, a fair enough upgrade from the current £130,000. Wenger's eagerness to see that Sanchez and Mesut Ozil remain with the club has also boosted the Copa America winner's hope of landing his heart desire's bumper deal. If rumours are anything to go by, the German's commitment looks to have been secured leaving that of Sanchez still lying in question marks.
Alexis joined the gunners from Barcelona in 2014 and for the past two and half seasons have carried them on his shoulders and have occasionally helped them achieve more than the sum of their parts in dire situations. This season has been no different. He's had 14 goals and 8 assists in 22 appearances and has made 2.6 key passes per game and also had 2.7 hours per game.
Without any shred of doubt majority believes and knows that Arsenal cannot afford to lose Alexis and as Arsene Wenger goes back to the drawing board of negotiations, one can only hope they come up with a win-win contract deal for both player and club.